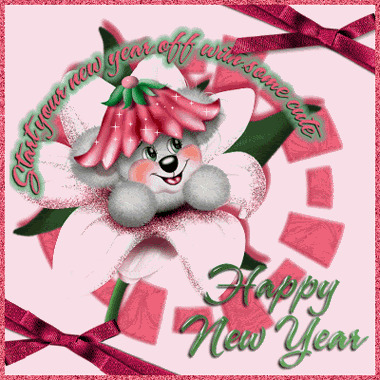 New Year will never be New Year without the fireworks.The louder the fireworks are, the better.
Before and after the count down the house should be well-lighted to invite good luck in every corner of the house. All windows must be open to allow good spirits enter the house.
As New Year comes, the whole family should make any kind of noise like blowing horns and trumpets, banging some still utensils, pots and pans (my pans now are not in good form anymore :( ) or anything that could make a sound while going around the house to prevent bad luck from coming in and to drive it away.
And of course the highlight of New Year are the abundant foods. There's 12 kinds of round-shape fruits for good luck, egg and noodles for long life, glutinous rice for luck to stick around and family always together and fish to avoid scarcity.
And chicken is not serve because it signifies hunger and scarcity.
After the fireworks and making noise, me and my kids started to eat . I eat a lot and I'm showing you what was it he he he.
I prepared 3 kinds of pasta because my Stephannie wants a Carbonara and my Mycah wants the Spaghetti and I want the Macaroni salad too, because I can stock it in my fridge.
Carbonara

Spaghetti
Macaroni Salad
The forever Buko(Coconut) Fruit Salad,
holiday is not holiday without it to my kids
The sticky Ube cake but I just ate a little of it
and the Graham cake
This photos we're all that I have eaten during our "
Media Noche
".
Excluding the fruits and some foods.
Oh my God, there's a lot to burn again :(
Btw,
Media Noche
is the term we called for our midnight meal during New Year's Eve,
this meal symbolize our hopes for a prosperous New Year.
The midnight meal during Christmas eve, we called it
"Noche Buena"
.